Let's Plant Trees
At Brady's Run Park, Shelter 4,
10 am – 2 pm
We will be planting a new patch of forest in the park.
Kids welcome. Refreshments provided!
Let's Talk Trees
If you love trees or are merely curious to learn more, join us at the library for Let's Talk Trees, an interactive discussion designed to bring a better understanding of trees, forests and the impact they have on our lives. Don't miss this opportunity to learn about the valuable role trees play in our communities and our lives.
Let's Plant Trees
An opportunity for you to get your hands dirty while cleaning up the environment. Get back to nature and help us plant a new patch of native trees in the park. Games, refreshments, and activities for kids and adults.
Kids Nature Days
Kids connect easily with nature. Reforest Our Future wants to foster this connection at Kids Nature Days is being held at the Bradys Run playground. Join us anytime from 9 am – 12 pm to participate in a series of activities designed to enrich your child's role in the natural world. Ages 2-12
This is not a drop-off program. Chaperones will be available to guide activities. Parents are welcome to join activities or remain in the vicinity of the playground area. Thank you.
Forest Discoveries:
Photographing plants
No experience is needed. Walk with us as we explore the world of plants through the eye of a camera lens. Whether you have the latest DSLR, or an old phone, you can use it to photograph aspects of the forest you find interesting while learning some surprising facts about the subjects you capture.
Forest Zen
Recharge and unwind on this tour of a beautiful local forest. Unplug from daily life and experience what the Japanese call Shinrin-yoku, an immersive forest experience that will awaken your senses and leave you feeling relaxed and refreshed. Ages 8-80
Tree ID
Learn the names of a variety of trees as we explore the forest environment. Tree identification is a great way to get closer to nature and build your knowledge of the natural world.
Please make note of Forest Discoveries Events meeting locations:
The meeting point for Brush Creek events is at the Covered Bridge parking lot.
The meeting point for Brady's Run events is at the Main Lodge parking lot.
Four Seasons Pavilion, Brady's Run Park
Saturday, March 18, 2023
2:00 – 3:00 pm
Jeff Karwoski grew up in the forests of Western Pennsylvania where he formed an early bond with the trees. His love for them has led him from a career of cutting them down to leading a team of reforesters on a tropical island in the Philippines. Join us to hear these stories and everything in between as Jeff paints a picture of his past and what the future of trees may mean for all of us.
"When you hear how much Jeff loves trees it makes you love them more yourself."
"This made me look at trees in a different way."
Autumn Winds
Forest Discoveries 10.12.22
There's nothing like walking in the woods in the fall. It's a time of year that evokes a sense of time passing, and for those of us who participate in fall walks in the woods, an undeniable sense of nostalgia. There's something about the fall that belays a positive message. When your eyes can feast on the sweeping beauty of autumn it's easy to remember, if only for a moment, that the world is a remarkable place of wonderment where we are free to live our lives full of love and serenity. Isn't that what we truly want out of life, to love it?
This week at Brady's Run, the autumnal woodlands did not disappoint as colors were splashed across the hillsides surrounding us. We climbed up a too-steep hillside where only the deer go, and wound up on a main path used by normal people. From there we cut up through a dry creek bed and hiked through a patch of moss-covered boulders. I wondered, how long has the moss lived on those stones? Could this green carpet blanketing the stones be an ancient organism? Through the woods, we went until we reached a forested picnic area where we tried to catch falling leaves as they spiraled down around us. We all discovered the catching of leaves to result in feelings of pure joy and a sense of accomplishment as good as any. As the sun lowered to cast its final light through the trees, we made a wishful walk back down through the valley.
What will this change of season bring? Will we be more able to love our lives, ourselves, and the people and nature around us? When the autumn winds blow, anything is possible.
New Paths
Forest Discoveries 9.28.22
More often than not, we tend to stay on the same paths in life. This helps us feel safe and comfortable but, in general, prevents us from seeing new things or having an exciting experience. This week in Brush Creek Park, an intrepid 8-year-old discovered a new trail, leading us through a patch of forest that changed from a dense understory of Spicebush to a taller canopy of Witchhazel and then to a 100-foot-tall pine forest. Along the way, we climbed over a deadfall blown down in a storm and even came across an old cabin in the woods. We were definitely off our usual path, and we had a real backyard adventure!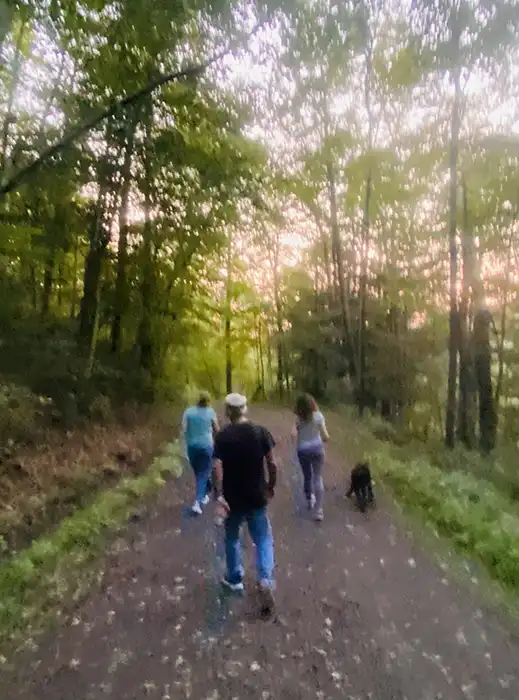 Doing Nothing
Forest Discoveries 9.14.22
At this week's event, participants discussed their need to unwind after having had "a day". Brady's Run proved to be the perfect place for that! In Japan, doctors actually prescribe a walk in the woods in a practice called Shinrin-yoku (which literally translates to "forest bathing"), and it has a multitude of proven benefits to physical and mental health – lowering anxiety and blood pressure, even boosting Natural Killer cells that are essential in fighting cancer. So off we went into the woods, looking at trees and flowers and berries. We identified a perfect little Pagoda dogwood and generally did nothing for a couple of hours. It was just what the doctor ordered!
Generations
Forest Discoveries 8.31.22
The love for trees is passed down through generations. At this week's event, we saw that happen as we were joined by three generations of one family. The oldest members of our group grew up near Brush Creek Park and remembered a time before the park was formed. They recalled stories of the landscape's past while the youngest generation worked hard on getting their shoes muddy as they discovered the forest around them. The children's father described how he had been to the park many times before and yet was struck each time by its beauty. This goes to show, we may grow older but the forest never gets old to us. If we protect it and preserve it, it will be there for generations to come.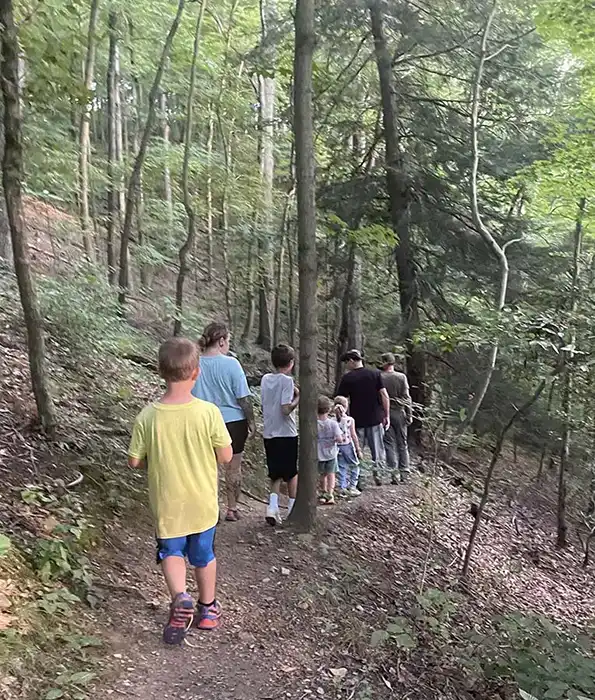 Grape Vines and Pawpaws
Forest Discoveries 8.10.22
Brady's Run Park is a county operated park nestled into a forested valley, and is a staple of Beaver County's outdoor life. During this week's event, the group headed down a gravel access road with a towering canopy of trees overhead. The kids made fast friends, climbing on the grape vines and joining hands to reach around the largest of trees. Jeff, leading the group, taught how to identify many of the species. An extra fun discovery was made when they encountered a Pawpaw, a species Jeff had not yet encountered during his more than two decades of working with trees in western Pennsylvania. This might have been the greatest lesson of the evening – the forest will always have something new for you to discover!
Join us at our next event and see what you can discover!
Nettles and Blackberries:
Forest Discoveries 7.27.22
During this week's event, the group took the high road after crossing the covered bridge and headed up the hillside trail through the mixed hardwood forest at Brush Creek Park. At the top the group heard a voice shout from down in the valley, "Is that the Forest Discoveries up there?" Jeff, leading the event, shouted back, "It is!" "I'll come up" the voice replied, and after a shortcut off the trail he caught up to the group. After a quick self-introduction, Jeffrey gave an impromptu lesson on identifying the stinging nettle the newcomer had wandered through on his shortcut. Though unpleasant to the touch, stinging nettle has a wide range of traditional medicinal uses across many cultures. The group continued its forest walk discussing the trees along the way, and eventually came upon a meadow full of blooming pollinator plants including some delicious blackberries. After the foraged snack, the group visited a grove of oak trees and enjoyed a splash in the creek, and shared an overall enthusiasm for the park and the forest that surrounds it.
Join us at our next event and see what you can discover!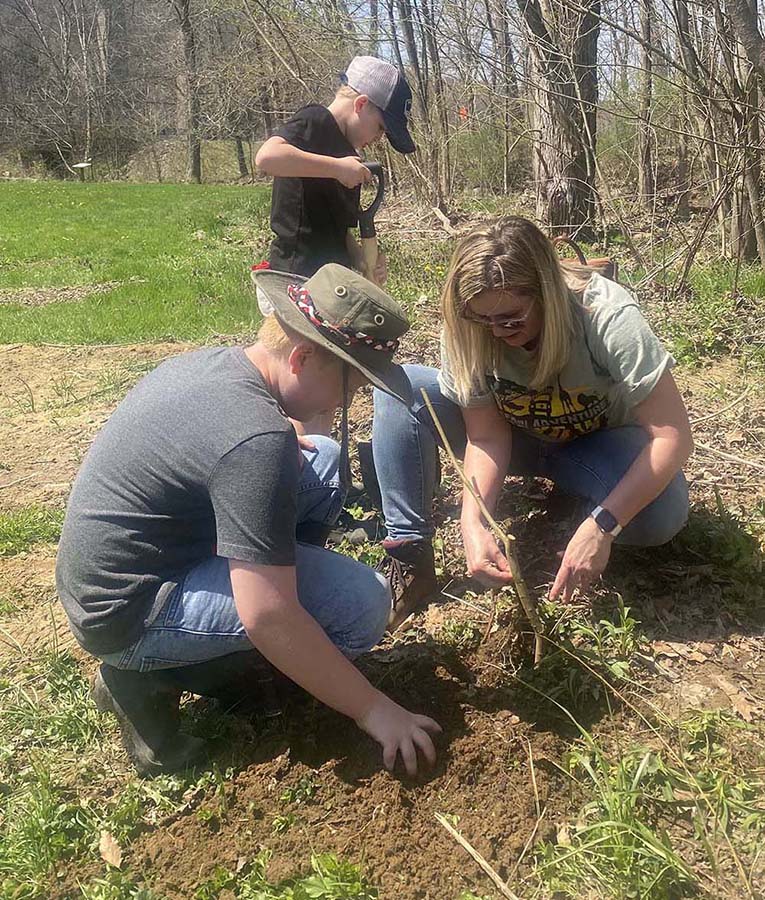 Earth Day 2022
On Earth Day April 22, 2022, Reforest Our Future held our inaugural tree planting event at Brady's Run Park! Families joined Jeffrey in planting black willow trees obtained through our partnership with Keystone 10 Million Trees. For many of the participants, this was their first time planting trees. Reforest Our Future is excited to be inspiring a new generation of "reforesters"!
Sign up for our quarterly newsletter for updates and tips on what you can do to help reforest the planet.